How to Make a Sticker?
Making single color vinyl stickers or decals can be a fun hobby, or business venture. Whether you are looking to start a business, make personalized gifts, or decorations. Creating and crafting stickers with a vinyl cutter is easy to do!
What do I need to Make a Sticker?
---
What do I Need to Make a Sticker?
In order to make a sticker you will need some tools, materials and equipment to get started. First let's look at the required equipment needed to create a sticker.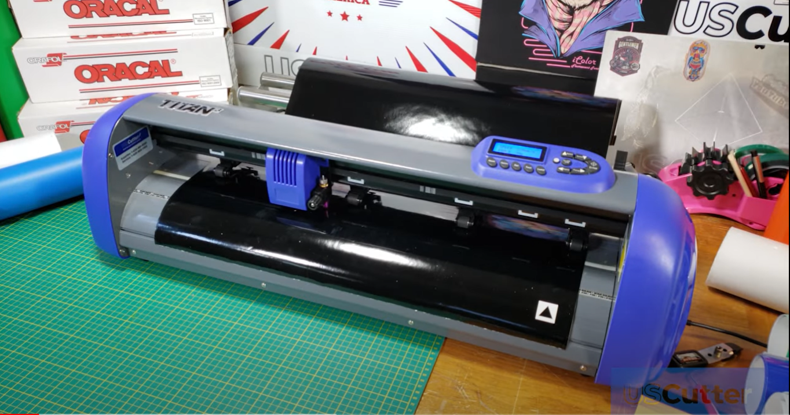 ---
What Vinyl Cutter Should I Use to Make Stickers?
A Vinyl Cutter or Plotter is needed to create stickers. Vinyl Cutters are pieces of equipment that connect to your computer via a USB cable or Wi-Fi in some cases. The vinyl cutter receives cut file information sent from software installed on your computer, and then using a drag knife will cut the chosen design into the vinyl.
There are many brands available to choose from including USCutter branded vinyl cutting machines including the MHseries, SC Series, LaserPoint, Titan, and PrismCut series to other brands including Silhouette Cameo, Cricut, Roland, Graphtec and Mimaki. With so many variations from small craft and desktop style vinyl cutters to large format machines, choosing the correct one can be a tough decision. We recommend reviewing our Buying Guide or reaching out to our Sales team if you need assistance or have questions regarding vinyl cutter selection.

---
Software for Creating Stickers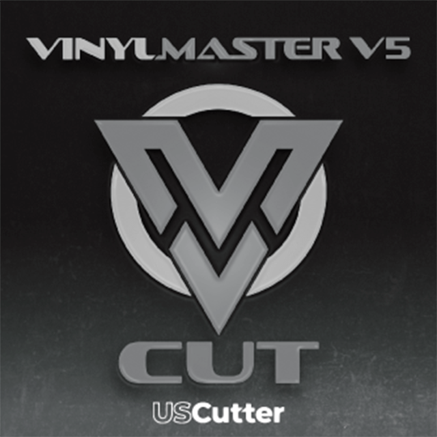 In order to create a sticker, you will need a method of sending your digital designs to the vinyl cutter from your computer.
There are many different design and cutting programs. VinylMaster is the PC based software that USCutter provides with its branded cutters. Silhouette, Roland, Mimaki, and Graphtec all provide their own software interface when
purchasing a cutter.
It is important to note that all of the vinyl cutters listed are compatible with the VinylMaster software; which is what we will be using in this tutorial.
---
Tools for Creating and Applying Stickers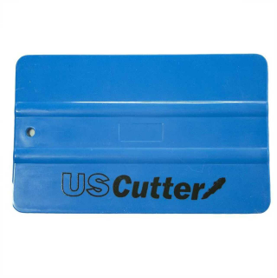 A Squeegee is a flat plastic tool that is used to apply transfer tape to your sticker, as well as applying your sticker to a surface. This tool is essential to removing air bubbles and ensuring the sticker edges adhere properly.
---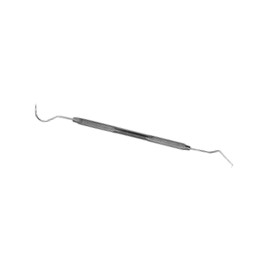 There are a variety of Weeding Tools from dental picks, tweezers, and burnishers. These tools are used to remove excess material away from your design once the vinyl cutter has completed cutting the sticker.
---
Materials to Make Stickers - Adhesive Vinyl
Adhesive Vinyl is the key component as it is the material that we will use to create our sticker. There are a few options to choose from, we will cover 2 types of vinyl here.
Greenstar Outdoor - USCutter's private label material. An economical choice for new users. The vinyl itself has a 6-year permanent adhesive backing, and is available in a variety of sizes and colors. You can view them all here!

Greenstar Indoor - USCutter's private label material. It is wall safe and will not remove paint, and is excellent for interior decoration. The vinyl itself has a 2 year removeable adhesive backing, and is available in a variety of sizes and colors. You can view them all here!
Oracal 651 - A premium outdoor adhesive vinyl. Produced by Orafol, this material is an industry standard. With a 6-year permanent adhesive, and available in varying sizes, and colors. Click here to view more!
Oracal 631 -The industry standard and go to for interior vinyl décor, and removable vinyl stickers. With a 2-year application life, and water-based adhesive this material is safe to apply to interior painted walls and is excellent for temporary installations. Oracal 631 is available in a wide array of colors, widths, and lengths. Click here to view more!


---
Materials to Make Stickers - Transfer Tape
Transfer Tape is an adhesive material that is applied to your vinyl sticker after cutting and weeding your design. It is used to lift and apply your sticker ensuring a clean proportionate application. Transfer Tape is available in two primary forms. Clear and Classic.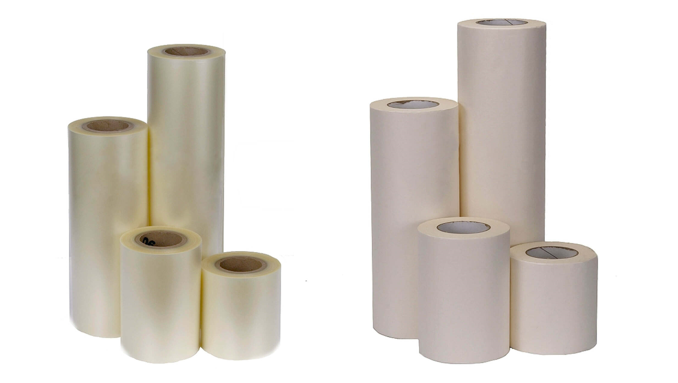 The Clear material generally has a more aggressive adhesive, but is transparent which greatly aides in application. However due to its make-up certain application methods such as "Wet Application" cannot be used with clear tape.

The Classic material is opaque and feels more like a large roll of masking tape. This tape is required for use with "Wet Application" of vinyl.
Choosing between Clear and Classic tape really comes down to personal preference and application style and method. The most popular Transfer Tapes currently are: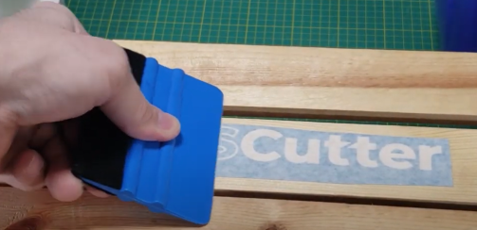 ---
Artwork for Making Stickers
Artwork is the most crucial part of making a sticker, and one of the more difficult parts of the process for those who aren't graphic artists. Artwork can be imported from a variety of programs including Corel, and Illustrator.
You can view and purchase pre-made vector clipart here!

---
How to Make a Sticker?
Here is a list of the steps we will go through to make a sticker. Please note we will go into each section individually.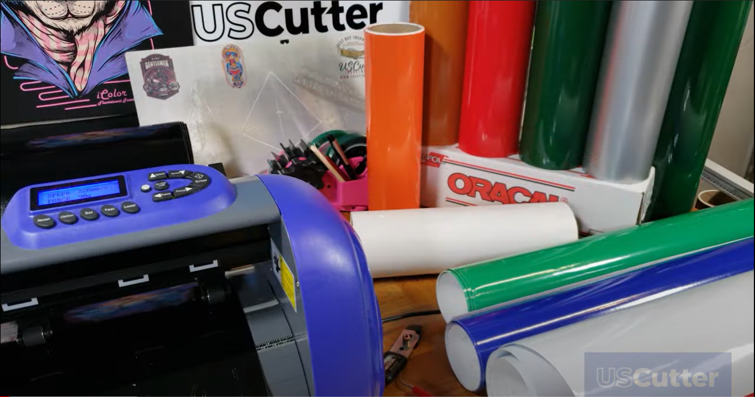 Loading Material in Your Vinyl Cutter
---
Importing Sticker Artwork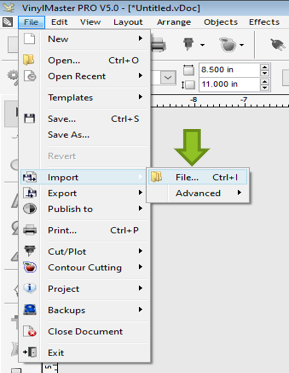 When creating a sticker with vinyl choosing the right design is important. Within the VinylMaster Software you can import artwork, create designs, access logos, basic shapes and some built-in clipart and editing tools to assist in creating your perfect sticker. Importing an image file can be as easy as drag-and-drop, or use the File Menu, and then select Import, and then File option. Then select your file to be imported.

Most imported files will be pixel based, and thus need to be converted or "Vectorized". This process takes square pixels and converts them to cuttable smooth lines. To Vectorize your image first left-click on the image to select it, and in the contextual menu select the Vectorize button.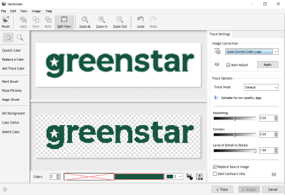 In the Vectorizer there are various options, to adjust your image. To continue, click on the Trace button, and then click Accept. Now your image is in a cuttable format.
---
Loading Sticker Vinyl in Your Vinyl Cutter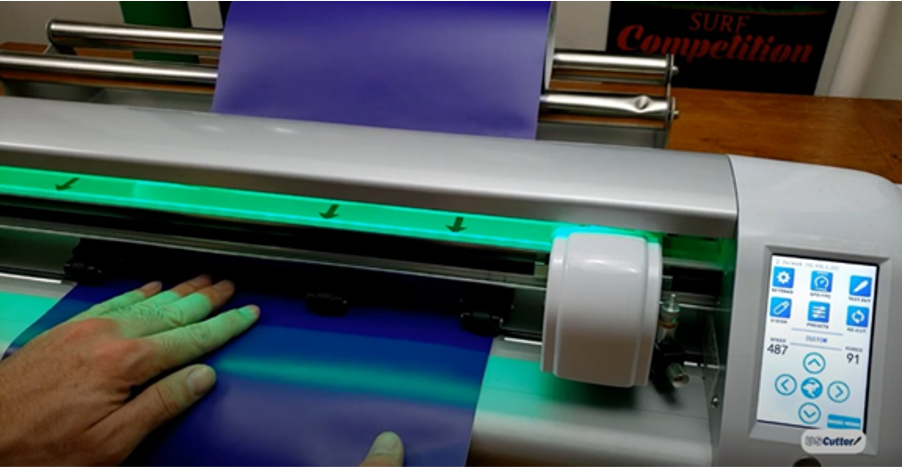 Material placed in the machine is controlled by the movement of the feed rollers and the pinch rollers which lock the material in place. Some cutters have very specific feed roller locations and therefore have very specific pinch roller locations. If the pinch rollers are locked down on a location that is not a feed roller, it can prevent smooth motion of vinyl through the machine. Some feed rollers are not strong enough to pull directly from rolls of vinyl, and in some cases, you will want to give the vinyl slack to make sure the motors can pull the material smoothly.
There isn't a "correct" location to place your vinyl; just make sure there are at least two pinch rollers locked down on it (generally near the edges), with more pinch rollers increasing stability. You can use the cutter's origin point setting to start cutting from any location. For more detailed instruction please refer to your Vinyl Cutter's User Manual.
---
Performing a Test Cut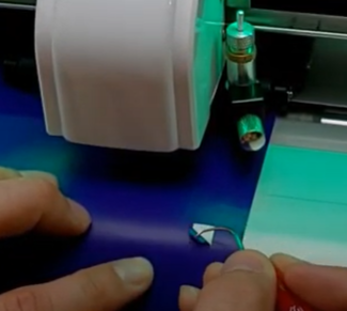 It is wise to perform a test cut to check your Vinyl Cutter's Pressure and Speed settings. Please refer to the User Manual for your Vinyl Cutter to learn how to perform a test cut.
After performing a test cut, verify that the settings are proper for smooth weeding. If this is not the case you can make adjustments to blade, pressure, and speed until the test cut pulls properly.
If the blade goes through the backing of the material, it is an indicator that you will need to reduce those settings.
---
Sending Your Designed Sticker to be Cut

To send your design over. In VinylMaster you can either:

Select File, then Cut/Plot finally select Send to Cutter.
or
Click the Send to Cutter icon (blade holder).
This will begin the cutting process. Please do not turn off the cutter, or disconnect it from your computer until the cutting has completed.
---
Weeding your Sticker Design
Weeding vinyl is the process of peeling away the excess material to reveal your freshly cut sticker design. This process is greatly aided with professional weeding tools available here.
Pulling gently away at an angle and being cautious to not allow the lifted material to fall back over the design is crucial! Keep in mind that the back of the material you are removing has adhesive on it and will stick to surfaces including itself!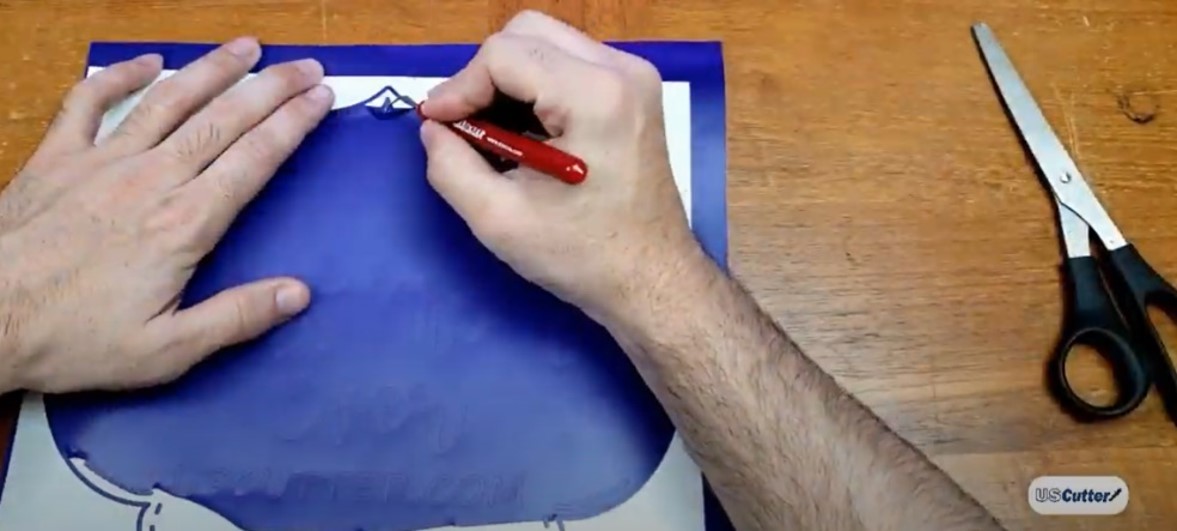 ---
Applying Transfer Tape to Your Sticker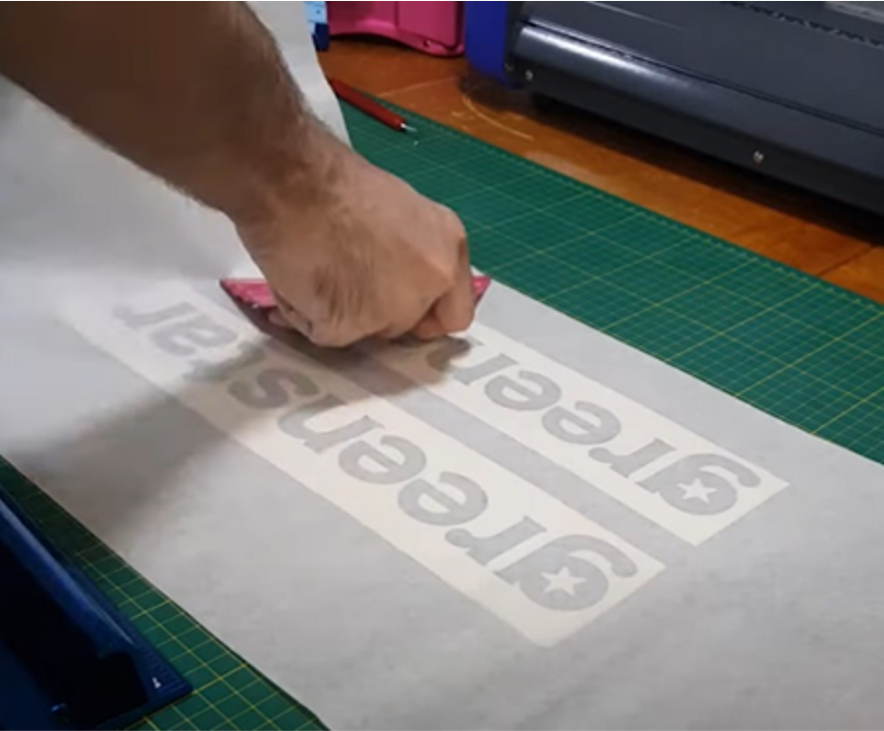 Application Tape or Transfer Tape is used to lift your sticker from backing paper and apply it to a surface.
First, cut a section of transfer tape from your roll. Ensure that it will completely cover your sticker. You can layer the transfer tape if your design is larger than the width of your tape.
Hold the transfer tape above your sticker so it forms into a "U" shape naturally.
Then from the center moving out toward the edges allow the transfer tape to naturally fall over the design.
Next take your squeegee, utilizing the edge of your squeegee make smooth strokes from the center out toward the edge of the transfer tape using medium pressure to remove air bubbles and ensure that the transfer tape tacks to the surface of your sticker.
---
Applying Your Sticker to a Surface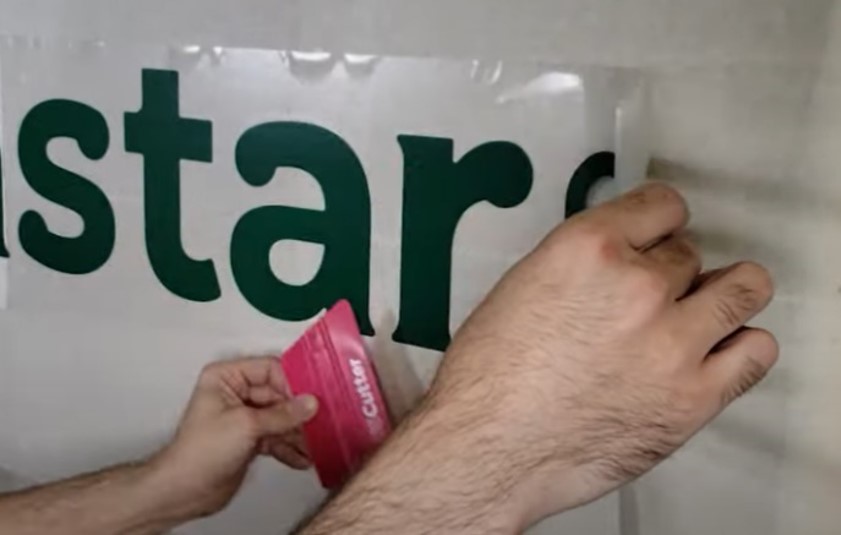 To apply your sticker, begin by lifting the transfer tape from the edge. This will also remove the sticker from the backing paper.
Once again from the center outward apply your sticker to a surface and squeegee the sticker once placed. Be sure to remove any air bubbles and apply pressure around the edges of the sticker to ensure a strong bond. Then remove the transfer tape to reveal your completed vinyl sticker!